From: the desk Forest Vance, Personal Trainer and Former Pro Football Player

Dear friend –
If you are looking to:
Gain strength
Lose body fat
Decrease pain
Move better
Be ready, at any time, to take on whatever physical challenge life throws at you …
But you are FRUSTRATED, because:
You still have the belly you've been trying to work off for years …
Finding the time to train properly is a real challenge …
You have aches and pains that flare up with every different workout you try …
Then keep reading!
Because in today's article, I'm going to show you EXACTLY how you can lose fat, gain strength, and feel great … all at the SAME TIME … and in FAR less training time than you ever thought possible.
But more on that in just a bit.
First, I want to tell you my own personal story, because I think it's important for you to know – and I want to explain to you how the system I'm going to share with you today came to be …
 My Story
I'm currently a personal trainer and boot camp instructor based out of Sacramento, CA. I hold a Master's Degree in Human Movement, in addition to Personal Training Certifications through the American College of Sports Medicine and National Academy of Sports Medicine. I'm also a Russian Kettlebell Challenge Certified Instructor.
My athletic achievements include playing football at the college level and a stint in the NFL. I've trained thousands of clients both in person and online, and have a track record of getting people phenomenal results in short amounts of time.
But I haven't always been in top shape and living the fitness lifestyle.  No – not long ago, I went through a lot of the same struggles you probably have, too …
Back in my football days, I was in top shape. After a great college career and a 'cup of coffee' in the NFL, it was time to move on. The transition was pretty smooth – except from a personal fitness standpoint. Long story short, I ended up at about 310 pounds:

I remember feeling so freakin' fat – so out of shape, and different from my former athletic self – it was just flat-out depressing.
It was the picture above, in fact, that ultimately triggered my transformation. I started on an intense workout and diet plan, and lost 64 pounds over the next 7 months: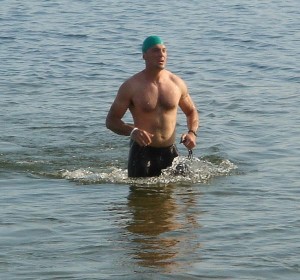 How I Did It
Now, when I first started my weight loss journey, my #1 goal was weight loss.  So I knew I needed to design my workouts around that goal.
But at the same time, I wanted to gain some strength, get and stay pain free, and be ready to rock a variety of physical challenges at any time.
Now I didn't have a lot of time to train … only about 30 minutes per day.  My schedule was slammed busy at the time … I was in the gym working with 8-10 personal training clients per day, and at the same time attending classes and studying at night to earn my Master's Degree in Human Movement.
But I just KNEW that there had to be a way to accomplish the goals that I had set for myself.
So I went into serious research mode. I poured over the collection of hundreds of texts I've accumulated over the years on fitness, health, exercise and nutrition … I reviewed training logs and notes from my most successful training clients of all time … I was determined to leave no stone un-turned!
After testing extensively on myself, with much trial and error … and then testing at my gym with my in person training clients … I finally discovered the 'secret formula'.
That is, the secret formula for gaining strength, losing fat, performing better and feeling great … all at the SAME TIME … and in FAR less training time than you would expect.
The program I came up with is what I used for my own transformation.  And I decided to put it together into a complete training package, so that people around the world could benefit from it as well.
And after slaving away for many hours, days, weeks, and months, the finished product is FINALLY available …
Now introducing –
Invincible Body
Gain strength, get lean, perform better and feel great at ANY age – in about 30 minutes per day!
Here's an overview of what your training will look like to get the "Invincible Body":
Joint mobility and gentle stretching – 5-10 mins EVERY day in the AM
Foam rolling / self myofacial release – EVERY day, as needed, any time throughout the day
Dynamic warm up / movement prep – 5-10 mins at the beginning of each training session
A basic barbell lift – at most training sessions, three or four days per week
Kettlebell and / or bodyweight exercises – at all training sessions, three or four days per week
Metabolic-style "finisher" / sprints / etc – at the end of most workouts
Static stretching / flexibility work – at the end of most workouts / any other time
Fun / enjoyable activity – on your "off" training days / any other time
And here's everything you'll get in my new "Invincible Body" program:
1 – The Invincible Body Main Manual ($19.95 value)
This is the main manual that outlines the program and shows you exactly what to do to build an invincible body.
A full six week training program that will show you step-by-step, EXACTLY what to do to gain strength, lose body fat, perform better and feel great at ALL times – in about 30 minutes of training time per day
Exactly WHAT the "Invincible Body" philosophy is all about … and how you can apply it to YOUR fitness level, goals, situation, etc for maximum results
A joint mobility routine that will take you less than five minutes per day and will help you perform better, reduce pain, feel great
How "self myofacial release" techniques using a simple foam roll can help you improve your recovery time and make faster progress towards your fitness goals
The BEST way to prep your body for your workouts – so that you are actually performing and feeling better during your training sessions
Strength training sessions based around basic barbell / kettlebell / bodyweight movements that will help you gain strength, lose fat, and move better all at the same time
Simple techniques to improve your flexibility levels that compliment the other techniques in the program and that will help you wind down after your workouts
And much more!
2 – The Invincible Body Video Series ($19.95 value)
Here, I'll walk you through the full program and show you exactly how to do every exercise and technique outlined in the main manual.
Detailed modules / videos that walk you through each part of the Invincible Body program – so that you'll know EXACTLY how to perform each movement for maximum effectiveness AND safety
Coaching cues and training techniques that will make ALL the difference when it comes to getting the most out of your workouts, and making maximum progress in minimum time
And much more!
3 – The 30 Day Performance Diet ($19.95 value)
There is NO denying that DIET plays a huge part in your performance, leanness, energy levels and so much more … it's a CRITICAL part of building an invincible body!  That's why I'm also including the 30 Day Performance Nutrition Diet with the Invincible Body package.
A totally done-for-you diet that'll have you leaner, stronger, and BETTER in just 30 days.  I take out ALL the diet confusion and tell you exactly what to do to get results, fast.
A complete 7 day meal plan – the diet plan lays out in detail exactly what you need to do … but I've taken it a step further to make it even MORE done-for-you … I've created a full 7 days worth of meals for you!  Just follow the plan and get results.
A complete guide to overcoming the #1 clean eating OBSTACLE – can you guess what it is? 🙂
And much more!
4 – NEW, Just Added! – Invincible Body 2.0 ($19.95 value)
Finished the original Invincible Body program, and looking for what to do next?  Invincible Body 2.0 is ANOTHER six week program that will show you step-by-step, EXACTLY what to do to gain strength, lose body fat, perform better and feel great at ALL times – in about 30 minutes of training time per day!  And now you get it 100% FREE – for a limited time – with your of the original Invincible Body program!
As you can see, I've made this product the ultimate solution for getting the "Invincible Body".  And I am sure you are wondering at this point how much it is going to cost …
I thought initially $47 would be a fair price.  This is what other similar programs out there are going for.
But I wanted to make it affordable for everyone, who wanted to enjoy the same benefits that I have from this style of training.
Then I thought I might charge $37 for it.  That would be MORE than fair for a full 6 week training system, and all the additional bonuses I'm adding to the offer.
BUT at the end of the day, I wanted to make this program as affordable as I possibly could, so I decided to price it at $27 for a limited time.
See what a few of my satisfied customers have to say:
Erik D Dropped 60 Pounds and 16% Body Fat

"Growing up I never thought I'd get into shape. My defeatist attitude combined with sheer laziness made me pack on the pounds over the years. With my 30th birthday approaching I decided to make a change – and I'm so glad that I did! I changed my diet and lost a bit of weight and then I discovered (Forest's training methods).

I've lost 60 pounds, dropped my body fat percentage from 30% to 14% and have changed my life forever … what I love about working out is how it has impacted my everyday life … now I feel energetic, vibrant, STRONG and happy. If you have ever thought that you were the type of person who couldn't get into shape (start on one of) Forest's programs today!
Sarai J Lost 45 Pounds, Dropped 16% Body Fat and Gained 14 Pounds of Muscle

Training with my methods 2-3x per week for about 12 months, Sarai:

– Lost about 45 pounds
– Dropped over 15% body fat
– Added 16 pounds of muscle
– Gotten her first pull up(s)
– Has gotten WAY stronger and is putting up some crazy kettlebell strength #'s

Check out the email I got from her about a year ago below:

###

Hey Forest,

I got my bodyfat tested.

I am at 173.2 lbs and 19.6% bodyfat. It's been over 3 years since I've been in the teens! I also added 9lbs of muscle and that explains why the scale is not really moving that fast even though I can see a lot of change.

It's good info. He told me to keep eating my 2400+ calories a day and keep my workout schedule cause it's working!

Yay me!

My goal is still 14-15% so I have about 10 more pounds of fat to lose.

Thanks again for your help!

###

CONGRATS to you Sarai!!  Awesome, awesome job.  We are so happy to be a part of your progress – and look forward to helping you reach your ultimate fitness goals very soon!!
Sabrina F Lost 18 Pounds in 3 Months and Got Her First Pull Up!

(Sabrina was looking to) get back into shape and on a consistent workout routine. Specifically, she wanted to lose about 15 lbs of body fat and add a little lean muscle.

Sabrina exceeded her goal, losing 18 pounds in first three months (on my training program) … and even more impressive, has KEPT the weight off for the last three years!

She's also continued to get stronger, leaner, and in better shape every single month. For example, she recently worked up to doing her first pull up, she earned the coveted FVT "Black Band".

Way to go Sabrina, you rock!!
Paul K is In The Best Shape of His Life at 57 Years Young!

"A serious car accident left me in discomfort just to walk, it also left me determined not to have this be my new norm …. enter Forest Vance. A year plus later and dedicated adherence to three workouts per week, I can now honestly say that at age 57 I am in the best shape of my life. Thanks Forest!

I look forward to every training session, I am challenged to get through them and I leave with a wonderful feeling of accomplishment!"
Common Questions
If you are a bit skeptical about the program, I understand – I used to feel the same way.  I didn't think it was possible to enjoy all the benefits outlined on this page, in just 30 minutes of training time per day!  But I assure you, it is.
Any questions you have have probably already been asked – and I've answered them for you, below:
Q – What equipment will I need to do this program?
A – To start, all you need is a foam roll, a pull up bar, and a couple of kettlebells.
As you get stronger, you'll likely want to add a basic barbell set into your equipment as well.
Q – This all looks good – but I am a beginner, and these exercise look too hard for me.  Can I still do this program?
In short, YES.  I have taken great care to make sure that the focus of Invincible Body is on progression – so no matter if you are just getting back in to working out or you are an advanced exercise enthusiast, this program is perfect for you.
Q – Can't I just find this info for free elsewhere on the internet?
To be honest, I'm not so sure 
  A lot of the training tips and tricks that are found in this guide you'd actually have a hard time finding elsewhere for free. And even if you could, the question is, do you want to spend dozens or potentially hundreds of hours to pull it all together and filter out the good stuff from the bad? Or do you just want me to do all the hard work for you and give you an answer to your problem right now?
What's more, you're backed by a 100% guarantee.
Do this – read just the first chapter of the Invincible Body program. If you don't feel like you're got your value – contact me for a refund.
Better still – take a full 60 days to benefit from this info. If you feel like you haven't gotten a 10x value on your investment, you can STILL contact me for a full refund.
SO .. you only stand to gain when you sign up now. And signing up is easy. Just click the "add to cart" button below, fill out the acceptance form and you'll be immediately transferred to a download page where you can benefit from info this instantly.
Obviously that guarantee is beyond fair.  You have absolutely no reason not to pick up a copy of Invincible Body right now. For less than the cost of a meal out, you're going to get a full 6 week program that will show you how to get stronger, lose fat, perform better and feel great – in less than 30 minutes of training time per day.
Isn't it worth the small one-time investment of $27 to guarantee that within a few short weeks you'll be on the way to the best shape of your life?  Click here to grab your copy now!
Thanks so much –
– Forest Vance, MS, CPT, RKC II
PS – The Invincible Body is my ULTIMATE training system – designed to help you gain strength, lose body fat, decrease pain, move better, and just feel great – in about 30 minutes of training time per day.
PPS – My system is backed by a 60 day, 100% guarantee.  Just read the first chapter and review the first video in the program.  If you don't feel like you're got your value – contact me for a refund.
PPPS – Don't just take my word for it – see the kind of results folks have experienced with my training programs in the past – then pick up your copy of my Invincible Body training system!
Grab the complete Invincible Body program now for only $27
NOTE: The 'Invincible Body' program is a downloadable product. After you order, you will get INSTANT ACCESS to download the e-book(s), bonus reports and videos onto your computer. No hard products will be shipped.
ClickBank is the retailer of this product. CLICKBANK® is a registered trademark of Click Sales, Inc., a Delaware corporation located at 917 S. Lusk Street, Suite 200, Boise Idaho, 83706, USA and used by permission. ClickBank's role as retailer does not constitute an endorsement, approval or review of this product or any claim, statement or opinion used in promotion of this product.